The world owes the Kurdish people in Rojava a very big debt of gratitude and tonight in the spirit of international solidarity we are with the people of Afrin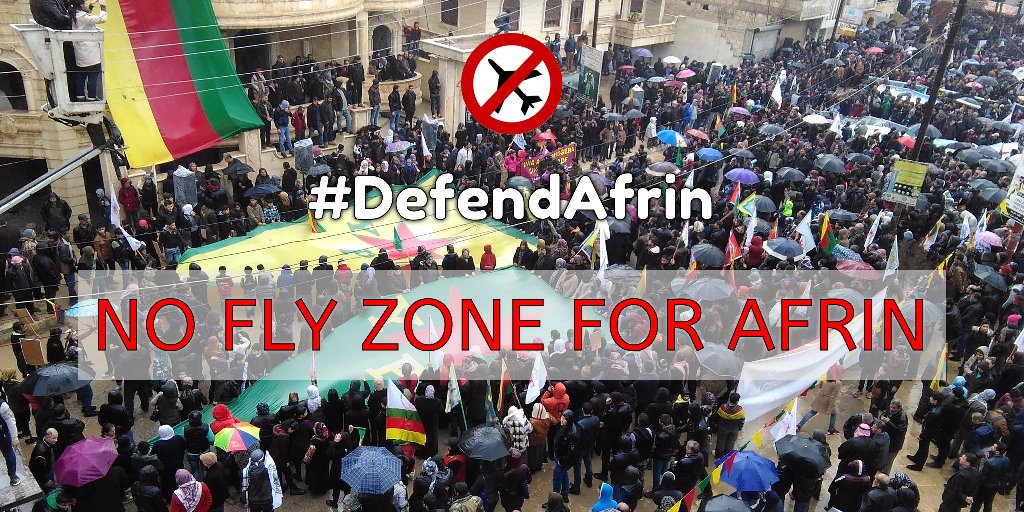 #DefendAfrin against fascists and imperialists. The brave women and men of Efrin will resist oppression, it's time to speak up, silence is in favour of evil.
The people of Afrin today said NO to Turkish occupation and NO to Turkish attacks on their ground, against their civilians. #DefendAfrin
Syrian-#Kurds march during a protest in support of #Afrin on January 18, 2018, in the northern Syrian town of Jawadiyah.


Protestor in #Efrin: "Efrin is a cemetery of Erdogan" Kurdish journalist .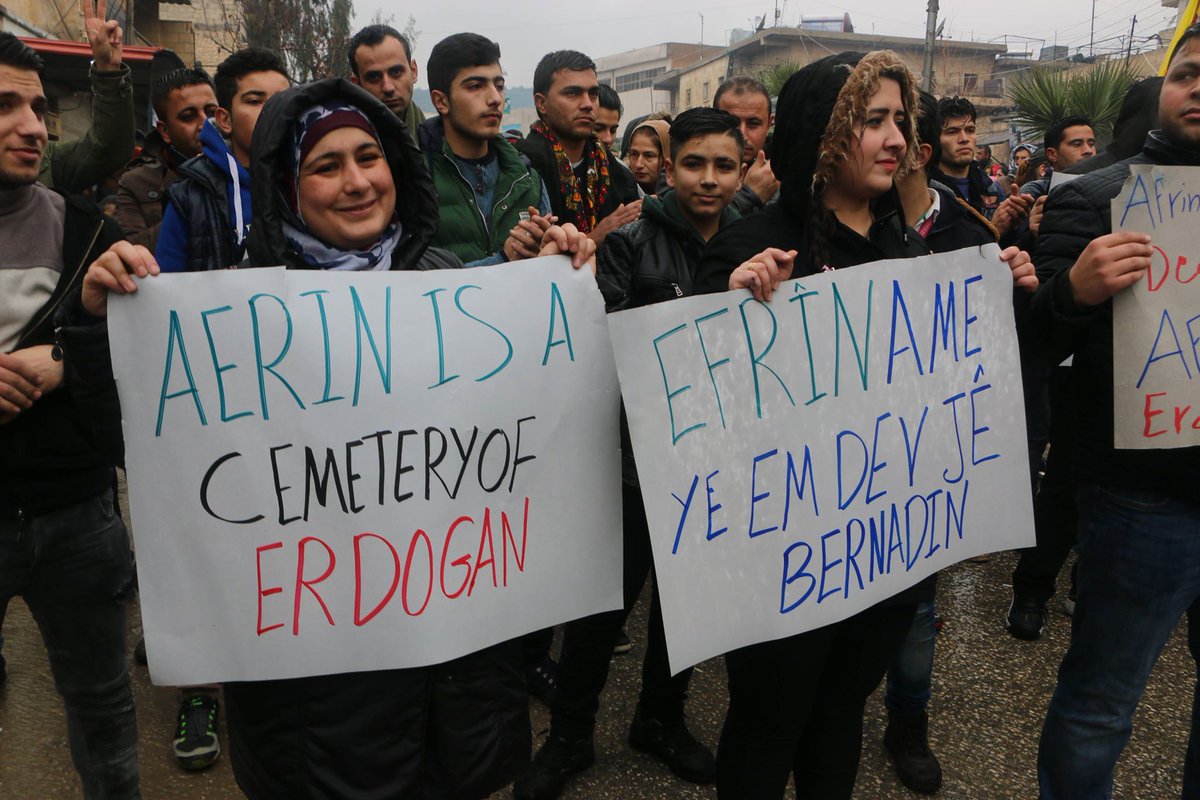 People of Afrin are marching against Turkish invasion today.
"Threats of the Turkish state cannot break the will of Afrin's people"
Afrin and the Kurds stood up to ISIS.
Time to stand up for Afrin & the Kurds. #DefendAfrin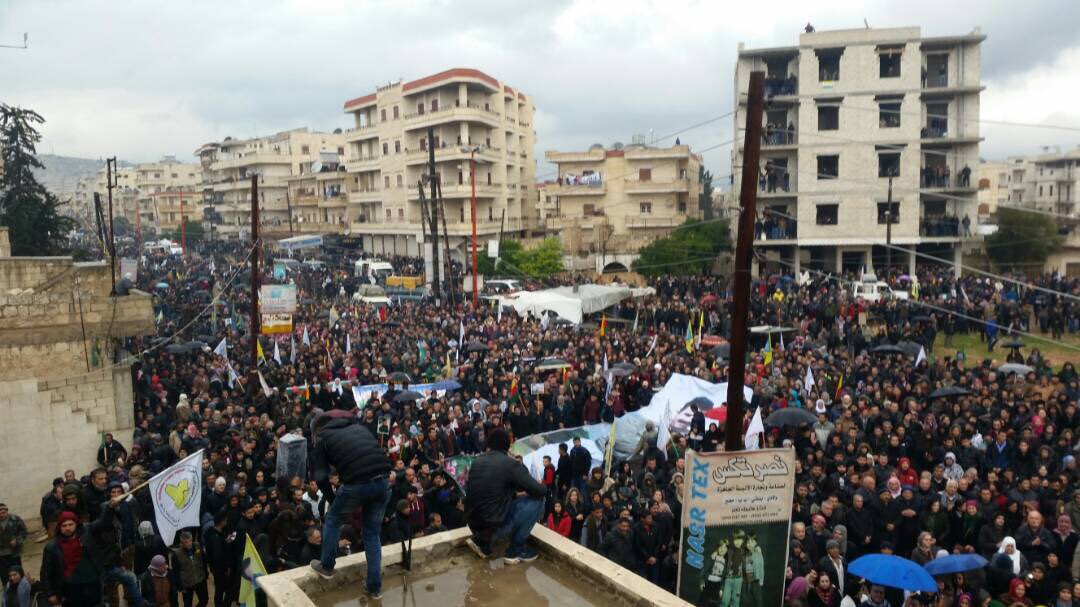 Calendar of demonstrations for Afrin abroad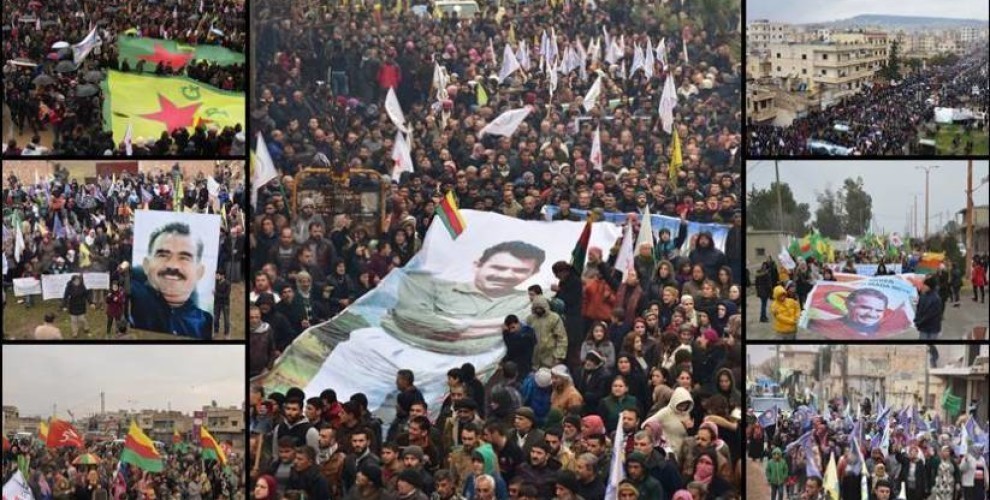 CALENDAR FOR PROTESTS
The dates and places of demonstrations are as follows:
NICOSIA
JANUARY 18, 2018
Time: 11:00
Meeting place: In front of the Interior Ministry
ATHENS
JANUARY 18, 2018
Time: 15.00
Place: Syntagma Square (in front of the consulate)
LONDON
JANUARY 19, 2018
Time: 12.00
Place: 43 Belgrave Square, Belgravia (in front of the Turkish embassy) (closest train station: Hydepark Corner Station)
STOCKHOLM
JANUARY 19, 2018
Time: 13.00
Place: In front of the Swedish Parliament
GOTEBORG
JANUARY 19, 2018
Time: 17.00
Place: Brunnsparken (Center)
ÖREBRO
JANUARY 19, 2018
Time: 13.00
Place: Center / NCDK-ÖREBRO
GAVLE
JANUARY 19, 2018
Time: 16.30
Place: Storatoget / GAVLE
MUNICH
JANUARY 19, 2018
Time: 15:00
Place: (Turkish Consulate) Menzingerstr.3
NORWAY
JANUARY 19, 2018
Time: 14.30
Place: in front of the Foreign Ministry
TORONTO
JANUARY 19, 2018
Time: 12-2PM
Place: in front of the Turkish Consulate / 10 Lower Spadina Ave. Toronto, ON M5V-2Z2
ESSEN
JANUARY 20, 2018
Time: 15:00
Place: in front of Essen Hbf Kaufland
STUTTGART
JANUARY 20, 2018
Time: 15:00
Place: Lautenschlagerstr, across from the Hbf
BREMEN
JANUARY 20, 2018
Time: 15:00
Place: Hbf Bremen
OLDENBURG
JANUARY 20, 2018
Time: 14:30
Place: Hbf Oldenburg
MANNHEIM
JANUARY 20, 2018
Time: 14:00
Place: Abendakedemie Manheim
March and rally
MÜNSTER
JANUARY 20, 2018
Time: 14:00
Place: Münster Hbf Meş û meş
BERLIN
JANUARY 20, 2018
Time: 16:00
Place: Hemmanplatz Berlin
KASSEL
JANUARY 20, 2018
Time: 14:300
Place: Hauptpost Kassel
BONN
JANUARY 20, 2018
Time: 17:00
Place: Adolfstrasse 45
FRANKFURT
JANUARY 20, 2018
Time: 14:00
Place: Hbf Frankfurt
NIEDERSACHSEN / HILDESHEIM
JANUARY 20, 2018
Time: 15:00
Place: Hbf Hildesheim
ZURICH
JANUARY 20, 2018
Time: 13:00
Place: Helvetiaplatz, 8004
NCDK-S KURDISH WOMEN'S MOVEMENT, HDK-S, PYD
MELBOURNE
JANUARY 20, 2018
Time: 13:00
Place: State Library of Victoria - 328 Swanston St
PARIS
JANUARY 20, 2018 Cumartesi
Time: 14:00
Place: Gare de l'Est
MARSEILLE
JANUARY 20, 2018
Time: 13:00
Place: Place Canebiere
TOULOUSE
JANUARY 20, 2018
Time: 14:00
Place: Metro Francois Verdier
COPENHAGEN
JANUARY 20, 2018
Time: 15.00
Place: Kopenhagen Kultorvet
MONTPELLIER
JANUARY 21, 2018
Time: 14:00
Place: Place du Peyrou
SUPPORT ROJAVA


Please join us !!!
Facebook group