Turkey's problem is not only with Syrian Kurds, but has a hateful history and problem with all Kurds in the world
Russia and America haven't yet taken a bold stand in regards to Afrin. The YPG's resistance will be what sets the score here. They tend to support whoever wins..
US AND AFRIN
US opposes Turkish attack on Afrin
"We would call on, certainly, the Turks not to take any action, like invading Afrin,"
The US State Department Spokesperson Heather Nauert on Thursday called on Turkey not to attack Afrin. However, Turkish officials still threatened to carry out the operation on Friday.
"We want people to stay focused on ISIS,"
Speaking in a daily press briefing US State Department official said, "We do not believe that a military operation serves the cause of regional stability, Syrian stability or indeed Turkish concerns about the security of their border".
The spokesperson said that he had limited information about Turkey's reported military moves and added, "The kind of threats or activities which these initial reports may be referring to, we don't think advance any of these issues. They are destabilizing".
US official: "We do not believe that a military operation, whether in Afrin or directed against the self-defense – or rather, the Syrian Democratic Forces, the SDF in the north and northeast of Syria, serves the cause of regional stability"
Turkey says no turning back from offensive in Syria
However, Turkey's Defense Minister Nurettin Canikli vowed they will carry out the operation on Friday.
"The [Afrin] op will happen, will be carried out, as our President has said [...] there is no other solution," he said.
Indeed, it is chaotic, ambiguous and inarticulate US policy which is causing America to lose on every front in the region. A NATO partner engaging in an all-out war on your regional ally is a clear sign that something has failed in your foreign policy.
Russia and Afrin
Foreign Minister Lavrov: It is not true that Russian troops are withdrawing from Afrin
As Cavusoglu explained, "We are talking with both Russia and Iran regarding the issue of airspace. The Russians must not oppose the Afrin operation."
The Syrian government warned Turkey on Thursday that Syrian air defenses would target the Turkish army, if Afrin was attacked.
FSA AND AFRIN
FSA fighters proudly say they are heading towards "the battle of Afrin". Why would someone be that happy when they are going to probably kill and die in a battle that's not even their battle..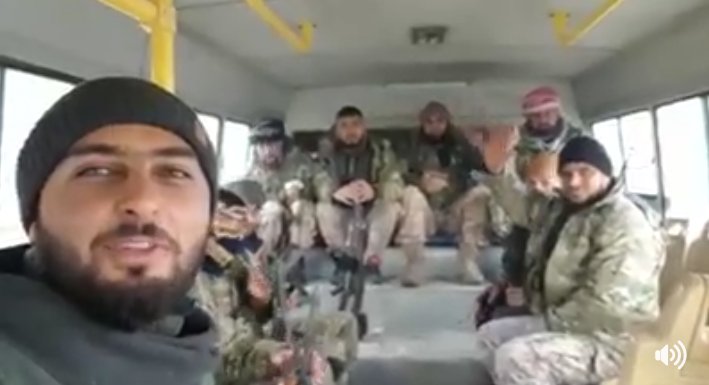 To Jihadis in Azaz: you may come on the buses but you definitely go back on a dump truck.
YPJ
Commander Nesrin Abdallah says that the YPG/YPJ forces are ready protect their country against any